| | |
| --- | --- |
| Bringing you selected reading pleasure. | Be sure to bookmark this page in your favorites. |
BUSINESS
Harvard Business Review's 10 Must Reads Boxed Set
You want the most important ideas on management all in one place. Now you can have them - in a boxed set of 6 books that contains HBR's 10 Must Reads. We've combed through hundreds of Harvard Business Review articles on strategy, change leadership, managing people, and managing yourself and selected the most important ones to help you maximize your performance.

This six-title collection includes only the most critical articles from the world's top management experts, curated from Harvard Business Review's rich archives. We've done the work of selecting them so you won't have to. These books are packed with enduring advice from the best minds in business such as: Michael Porter, Clayton Christensen, Peter Drucker, John Kotter, Daniel Goleman, Jim Collins, Ted Levitt, Gary Hamel, W. Chan Kim, Renée Mauborgne and much more.
How To Be A GREAT Salesperson ... By Monday Morning!: If You Want to Increase Your Sales Read This Book. It is That Simple

For ALL Industries! - Selected Top 10 "Must-Read" Book! - Over 10,000 Books Sold! - Perfect Gift! - Jump Start Your New Year Sales, Now!

How to Build a 'Burning Desire' Within Your Customers for Your Products and Services
How to Create Urgency: Reasons for Your Customers to Purchase Now!
Shorten Your Sales Cycle
Trial Close
Assumptive Close
Takeaway Close
Third-Party Close
Why Asking Open-Ended Questions is Such an Effective Strategy
The Importance of Enthusiasm and Benefits
How to Schedule Your Follow Up Calls/Meetings, So YOU Are in Control of Your Sale
How to Know When to Stop Selling, and Start Closing Your Sale
Plus, Much More
You Don't Know What You Don't Know: Everything You Need to Know to Buy or Sell a Business
ESSENTIAL READING FOR ANYONE READY TO BUY, GROW, OR EXIT A BUSINESS No matter what stage of business ownership you're in, Terry Lammers will help you understand how to navigate the twists and turns of the business cycle and steer your enterprise toward success. In humorous, straightforward anecdotes, Lammers describes how he grew his own company through 11 acquisitions, which ultimately led him into the mergers and acquisitions business. He shares what he did right, what he should have done differently, and he breaks down complicated topics into friendly digestible pieces that are easy to put into practice. From the pros and cons of buying an existing company to preparing to sell it to developing a life plan for after the sale, this book provides the real-life advice every business owner needs.
Starting an Online Business All-in-One For Dummies

Being an online entrepreneur means more than just building a website - and this book breaks down everything you need to know to be successful. Inside, you'll get plain-English explanations and easy-to-follow instruction on online business basics, legal and accounting issues, website design, Internet security, boosting sales, e-commerce, and so much more.

While the ideas and concepts behind starting an online business are tried and true, the tools available to entrepreneurs change and evolve quickly - and often. Starting an Online Business All-in-One For Dummies gets you up to speed on the best new tools, resources, and communities, and shows you how to best leverage them to up your chances of success.
Featured Business Author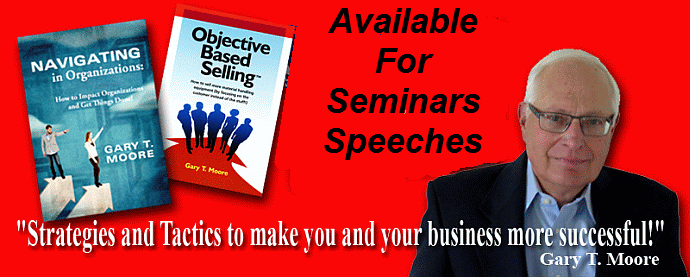 Buy These Books
Navigating in Organizations. Most organizations are hierarchical, social, political, competitive, and ... frustrating! Get a running head start on the competition and learn what it takes to succeed in this environment. This is the ideal book for college administrators looking for something to send their graduates...probably business or technical graduates...off into the business / organization world; grandparents or parents looking to help their progeny in the same age group, get a head start...or a kick start...in organizations / businesses; HR professionals who are looking to get new young hires (millennials?) up to speed more quickly. Click here to learn more about and buy the book Navigating in Organizations.
Objective Based Selling - How to sell more material handling equipment (by focusing on the customer instead of the stuff). Sell More at Higher Gross Margins. Learn how to Use open ended questions to get the customer to tell you how to sell them (over 100 specific questions provided) Create customer focused proposals...instead of quotes Conduct "scrum" meetings with multiple decision influencers.. and much more! Excellent information for the business-to-business sales professionals.

Click here to learn more about and buy the book

Objective Based Selling.